BBC coverage of AirSensa and the Wellcome Trust
Thanks for all the kind messages about the latest BBC One Show coverage we received, looking at how The Wellcome Trust is engaging their staff around air quality using AirSensa.  If you didn't see it, check out http://goo.gl/Hu6LTp.  It was a follow-up to the piece they did on AirSensa and schools in August.  The picture attached here shows Wellcome's energy manager John Spall and I talking to presenter Iwan Thomas about real-time readings from the six sensor units installed around Wellcome's head office buildings.
We are finding an increasing number of companies recognising the value of monitoring air quality at their office locations.  Why?  Because air quality is the new smoking – in a few years we'll all look back and be shocked that people knew about how harmful air pollution was, yet did little about it. Litigation will surely follow, and companies are recognising that arming their employees with the best information about how to avoid the worst of it is the safe thing to do.  And of course, the data goes to help build out the AirSensa free public data project, so there's a strong element of social good as well.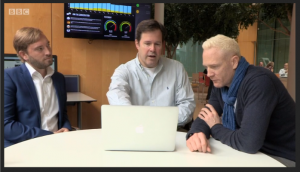 Visit our web site if you'd like to know more – see www.deliverchange.org – or contact me directly